Here we go again. Another quarter. More data.
There's a deluge of information. The number of stations keeps increasing, consumer behaviour is changing and this produces more and more information.
The data used to be easy to analyse, who's up and who's down. Now? Not so much. As well as station changes, we've got wholesale network alterations and a changing mix of which platforms people listen to.
When I get the data, the first thing I tend to look at is London. It's the most competitive market. It has the most stations. It's just a good place to start.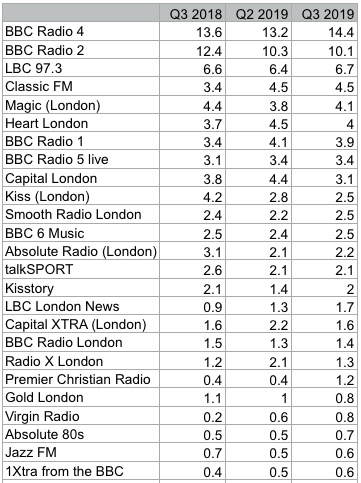 Usually I put up the commercial London market share chart, but this time here's all the stations audible in London, looking at the share today, last quarter and last year. You can see the immovables in Radio 4 and Radio 2. LBC seems to have graduated to that point too.
Market share comes from total hours consumed. The stations with high average hours do well – and these tend to be the older appealing ones – R4, R2, Classic and LBC. The younger stations with shorter consumption lengths start to drift. You can see Radio 1, Capital, Kiss drifting below Classic FM, Magic and Heart.
As well as the hours pressure, Capital and Kiss have had tough times with breakfast too.
Capital London breakfast has generally hovered around 1m, but has seen a bit of a drop to 700k. Blip or trend? It's always hard to say with a single wave.
Over at Kiss, Rickie, Melvin and Charlie left at the beginning of the year, so they're still in build mode. Not unnaturally the figures dropped to around 700k, and now this quarter have fallen to 526k.
So where have all these listeners gone? The obvious place would be Radio 1. Greg James is a year in, with a strong show. But whilst he's up year on year, he's slightly down on the quarter.
Can the listeners have just disappeared?
Having a look at London's demographics, 15 to 24s are the group with most volatility – and are most likely to affect the younger stations.

The chart above shows percentage reach of 15 to 24s in the key day-parts. In Breakfast there's been a softening from a fairly reliable low-50s to a drop last quarter and this.
The other day-parts have been affected, but not so recently. They had their changes around a year ago. Are we perhaps seeing the end of a re-alignment from youth audiences? Had breakfast merely held up until now?
Meanwhile looking at the 55-64s, if you're programming for them, you're luckier as they're a more, er, resilient part of the radio audience.

At the older end of the breakfast market, nationally Zoe Ball at Radio 2 has seen a fall to 7.9m (from 8.2m q on q and 8.8m y on y). Meanwhile her old chum Chris Evans has held steady up q on q to 1,114m from 1,110m. I imagine Wireless would have liked to seen some further growth, but the status again reaffirms the complexity in the market.
Looking back to the London market share table, the other big shift is the arrival of more digital stations into the mix. 6Music and Kisstory is bigger than FM stations like Capital Xtra and BBC London.
Digital Radio (across DAB, DTV and online) now accounts for 56.8% of listening vs 43.2% for analogue (AM/FM). When you look at platform more specifically, DAB accounts for 39.7% of listening whilst my calculations now show FM accounts for just marginally more at 40.7%. We live in a truly multi-platform radio market.
For me, though, the most important figure is that Fun Kids has hit its highest ever RAJAR reach of 105k (10+) in London.
This is a bigger reach than Scala Radio, Hits Radio, Greatest Hits Radio, Virgin's spin-offs and a load more services too.
I think the figures are even more impressive because RAJAR only measures over 10s, just think what our numbers would be if they actually measured our core audience!
Our addition in the market is that of a small minnow compared to the investment the radio groups are putting into families of brands.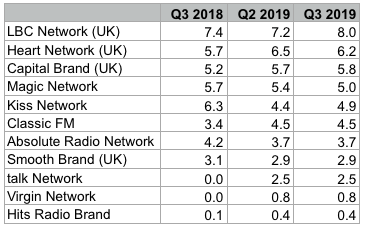 Where some individual stations seem weaker in the chart at the top of the page, this chart shows the London share when stations are grouped together into their new networks. Heart (which takes into account Heart 80s and Extra) gives a combined share of 6.2% and LBC picking up the main service and the rolling news channel (soon to expand to the whole country) gives it an even more impressive 8% share.
With commercial radio now just three larger radio groups, the idea of a single station being the be all and end all, is long gone.
Adam Bowie has more detail about individual station breakdowns.