I use Hallett Arendt's Octagon Crosstab to analyse radio data. And you can too!
There's been quite a bit of movement in the Q1/2023 RAJAR survey and much of it is happening to the stations targeting older audiences.
The big shift is for Greatest Hits Radio, which has seen its reach leap from 3,978k to 5,189k. GHR is, of course, the stations that's recently added Ken Bruce to its schedule, but these RAJAR figures are from before him starting. In other words, the awareness of GHR was driven by the news of the move, prompting many people to sample the station.
The additions are pretty much across the schedule:
What's interesting to see is how their biggest name – Simon Mayo – is actually the weakest performer in the daytime schedule, even after a bump of around half a million listeners. Surprisingly the regionalised show leads with 2.2m.
The growth of GHR is all across the country. In London, it increased its reach by just under 10% from 936k to 1,024k. It's a smaller increase than some areas of the country, but what it does do is move GHR above Smooth Radio for the first time (1,024k vs 840k)
Back when GHR took over Absolute's 105.8FM frequency 18 months ago it was at 548k, so it's seen significant growth. It will be interesting to see what it reaches when the 'Ken' effect is added next quarter.
Global have some better news with their Gold brand. Seemingly somewhat unloved – it just has a presented breakfast show – it had its best figures since 2006 – with a reach of 1.75m. Up on the quarter from 1.68m and year on year from 1.45m. Diving into its figures, it's the London area that's doing the heavy lifting, with a q-on-q rise from 336k to 479k.
The Radio X network has also has a good time, now reaching just over 2m. Its second highest ever audience. London, again, particularly good, with a reach of 491k.
Over at Radio 2, they've seen their reach increase quarter on quarter from 14.28m to 14.45m, year on year it's pretty stable – just marginally down 130k from 14.58m.
The big recent schedule change is Scott Mills, this is his first full RAJAR quarter (he started on 31st Oct last year). His afternoon figures are slightly up on the quarter to 6.24m (from 6.18m) and pretty similar to Steve Wright a year ago (6.28m).
What is more interesting is to look at his demographics. Radio 2 are trying to reduce the average age slightly (they had been drifting older over the last 5 years or so). This is something Scott seems to have achieved so far. The chart below shows the percentage of audience in each demographic:
25 to 54s up, and a slight decrease for 55 plus. Previously the average age was 55-56, now it's 54.9. This is a small change – and one to keep an eye on – but taken together this is all meeting Radio 2's goals. Average age is notoriously difficult to shift has its calculated on hours listened and older audiences have massively more time to listen to radio than young-uns. Also the measurement only starts at 15 too!
'Going younger' is often a stick to beat Radio 2 with. Most people completely miss the nuance of this. It's not trying to have an audience that's 30, it's just trying to push its average age down a bit to what it used to be, something it looks like Scott will help.
Further along the ages, Boom Radio (average age 59) has had another good book, with its reach up to 635k (up from 530 q-on-q and 189k y-on-y). It's basically adding 100k listeners a quarter – which is a phenomenal achievement. Hours have grown slower this quarter, still up, but to 6.1m from 5.8m. Some lower average hours too (9.7 vs 11), no doubt driven by some newer listeners being lighter ones.
Up in Scotland there's been some big changes this month as Global (and Communicorp) have taken the mostly networked Capital and Heart and re-birthed them with a full Scottish daytime line-up.
It's a significant investment, and will require some significant audience changes for them to break even on the changes..
The market in Edinburgh and Glasgow is fascinating.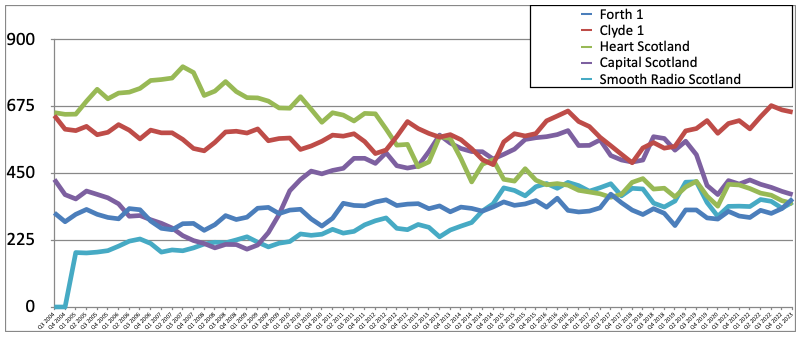 Since the current ratings methodology started in 2004, Edinburgh's Forth 1's reach this quarter is its second highest ever – 364k. And Glasgow's Clyde 1's 655k is its 3rd highest ever. It is almost unheard of for 'heritage' local radio stations to have kept, let alone grown, their audiences.
If we directly compare it to Q3, 2004 – as far back as my RAJAR ratings machine goes – Forth 1 was on 316k and Clyde on 644k. It's miraculous that today's figures – nearly 20 years on – are better.
Meanwhile regional services Capital and Heart in Scotland have seen a somewhat precipitous decline. In Q3/2004 Real Radio Scotland (now Heart) had a 654k reach, today it's 348k.
Capital Scotland, then Beat 106, had a reach of 429k, it dropped to around 200k when it was XFM Scotland, by the end of its Galaxy Scotland incarnation it had got up to around 450k. As Capital Scotland it peaked at just under 600k in Q3/2016 and since then has been in a downward trajectory to today's 378k.
Smooth Radio in Glasgow had its first RAJAR in Q1/2005 – 183k, and since then has seen general steady growth, peaking around 420k in 2019. It's currently slipped back a little to 353k but is still a pretty good result and a similar figure to Capital and Heart who cover the whole of the Central Belt, rather than just Glasgow.
Commercially it's worse. As Real back in 2004, Heart did 7.2m hours, it's now just 1.5m. It was doing more than double that as recently as Q2/2019. Capital did 3.6m hours in 2018, it's now on 1.4m.
It will be fascinating to see if the re-localisation of Capital and Heart will boost their numbers.
BBC
Over at the BBC, not great results. Radio 1 down on the quarter and the year at 7.5m. Radio 3 recovers back towards it standard issue 2m listeners with 1.9m this quarter (up from 1.8m and 1.7m in the last two). Radio 4 is never happy when its under 10m, and its 9.3m figure this quarter is down q-on-q and y-on-y.
Not great for 5Live, which has seen its headline number drop this quarter (and y-on-y) to 5.1m (from 5.5m). Talk Sport meanwhile is up both q-on-q and y-on-y to nearly 3.3m from 2.9m.
Very interesting to look at the World Service which has lost a third of its reach over the past year – now just over 1m.
It's also not great news for beleaguered BBC Local. The English network is now at 5.28m (down from 5.6m q-on-q and 6.3m y-o-y). That's the lowest reach since the methodology changed in 2004.
As the network re-organises itself into a more regional structure and loses lots of well known presenters, we'll likely see that number dropping further.
Over at News UK, Talk Radio's had a big reach increase – up to 840k (from 608k q-on-q). Times Radio meanwhile, seems stuck around the half a million mark, with a reach of 552k (and down q-on-q and y-on-y). With the recent addition of Jane and Fi, this will be a disappointing result for them.
Absolute Radio lacks some of the marketing of its rivals, and analogue frequencies too, meaning it's now a digital-only operation. However that doesn't seem to have affected its growth, as it celebrates its highest ever total reach at 5.3m. It also makes the main Absolute Radio the biggest digital-only station with 2.4m listeners.
Listening
It's always worth reminding readers how people listen to the radio as sometimes there's lots of assumptions about how people tune in.
As of this quarter, 49m people listen to the radio – 31.2m on AM and FM, 32.5m on DAB, 4.9m on the TV and 22m through the internet.
When we look at the amount of hours listeners give to the platforms – analogue radio has 326m hours, broadcast digital radio (DAB and DTV) is 435m hours and streaming is 246m hours.
When you break that down to demographics it looks like this:

A true reminder of the UK being a very multi-platform radio country. It's also noticeable how there's not a massive difference between demographics (except perhaps the over 65s).
AOB
If you're not following The Media Podcast, you really should! It's a weekly show all about the media. You can get it wherever you get your podcasts. Plus it's now on YouTube too.
Subscribe to this in newsletter form…